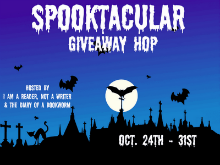 Click Here For A List Of Participating Blogs
About 400 blogs are participating in this hop!!
I hope you will HOP to all you can and enter all their giveaways!!
 Spooktacular Escape #1 Includes:

Charlotte Caine isn't called "the Vampire Chef" because she's a member of New York's undead community-she just cooks for them. Her restaurant, Nightlife, is poised to take the top slot in the world of "haute noir" cuisine.
But when a drunk customer causes a scene, a glowing review from the city's top food critic doesn't seem likely-especially when that customer winds up dead on Nightlife's doorstep. Now, with her brother under suspicion for the murder, Charlotte has to re-open her restaurant and clear her brother's name-before they both become dinner.
and


As party planner Presley Parker investigates a murder during a séance party at San Francisco's famous Winchester Mystery House, she doesn't need a Ouija board to tell her someone's trying to scare her to death…
Plus some bookish swag!
Spooktacular Escape Giveaway #2 Includes

Hardcover Edition
Is nothing sacred? The last thing Carmela Bertrand and her friend Ava expected to bear witness to in St. Tristan's Church was a crime. But now a beloved member of their scrapbooking circle lies lifeless next to a smashed statue of St. Sebastien-and a mysterious hooded figure has absconded with an antique crucifix.
As Carmela and Ava are drawn deeper into New Orleans' French Quarter in search of the missing crucifix, they may need the help of more than a few patron saints. Because this is one killer they don't want to cross…
Plus some bookish swag!
Spooktacular Escape #3 Includes:

My Advance Reader Copy
so I have to ask you to


These books can be shared but never, ever sold.
They are also paperback and may not have the fancy cover of the real book and may have errors and the story may even have been changed before the final book was printed.
There have been some people trying to sell these precious gifts and if that continues the Advance Reader Copy will no longer exist. It is very important to educate every reader on this issue and it is a cause I hold dear. Publishers and Authors make no money from these copies but graciously share them with bloggers like me to get the word out about their books. They deserve to be paid for all their hard work. I love sharing my books with you and want to continue that forever so if you do ever see an ARC for sale, don't buy it, report the seller, and buy the actual book. You will enjoy it more. If you are lucky enough to win a Advanced Reader Copy, treasure it, put in on your keeper shelf, and accept it as a wonderful gift which it is.
Plus some bookish swag!
You can enter one, two or three giveaways,
just fill out a separate form for each package.
Winners will be chosen by Random.org and
announced on November 1.
Winners will also be notified via email.
Open to U.S. and Canadian Residents  
Since I am trying to rebuild my followers here at my new blog,
Followers will receive an additional
5 entries for each package for each way they follow.
Publicize this giveaway for me and
Receive 5 Bonus Entries For Each Link You Provide.
"Like" my Facebook page for 5 More Bonus Entries.
(If you "liked" my Facebook page before today, click yes!)
Just click the Facebook Button at the
top of this page to "like" it now.