This great meme is hosted by Sheila at
"Book Journey".
It's a great way to start the week and
find out what other bloggers are reading.
My To-Be-Read pile has grown to an
unbelievable number thanks to this meme.
The weather has been gorgeous here in Wisconsin. Time to get the deck swing out and move by reading times to the great outdoors!

FINISHED
Redemption Day

Release Date: March 22, 2012
Review will be up tomorrow!
Little Shop of Homicide (Devereaux Dime Store Mystery)

A BRAND NEW SERIES!
Denise will be here for Cozy Wednesday!!
Gods and Fathers

The Virtual Tour for this book stops here this Thursday.
Old Maid's Puzzle (A Quilting Mystery)

My Just For Fun Read For The Month!
Review will be up soon.
I am loving this series!

I also had the privilege this week to read an advanced copy of
the sequel to Tara Woolpy's Releasing Gillian's Wolves
.
I will be telling you all about it when a release date is announced!
CURRENTLY READING
Yellow Crocus: A Novel
ON DECK
Executive Sick Days: A Sedona O'Hala Mystery
Maria Will Be Here For Cozy Wednesday on March 28th!
Guilty Wives

I read two books earlier this year by David Ellis.
Breach of Trust
and The Hidden Man.

I am anxious to see what he has done with Patterson's outline.
Release Date: March 26, 2012
Heads You Lose

Paperback Release April 3, 2012
If I get these done there is a whole new batch of cozies
yelling at me from my shelf 🙂
Click Here To See All My Current Giveaways!!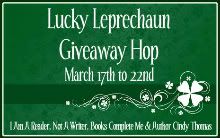 Click Here To Check Out My Giveaway!

Happy Reading Everyone!!!